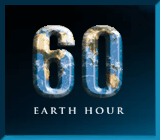 Earth Hour is an international event organized by the WWF (World Wildlife Fund), and held each year on the last Saturday of March, which asks households and businesses to turn off their non-essential lights and electrical appliances for one hour to raise awareness towards the need to take action on climate change.
The main goal of Earth Hour is to create awareness around climate change issues and "to express that individual action on a mass scale can help change our planet for the better" and not to marginally reduce energy consumption during that specific hour.
Earth Hour 2007
Earth Hour was held for the first time in Sydney, Australia on March 31, 2007 at 7:30 pm, local time. The event was conceived by WWF Greenwich CT and the Sydney Morning Herald. Approximately 2.2 million residents and 2100 companies of Sydney participated by turning off all non-essential lights.
According to figures from EnergyAustralia, a local utility, mains electricity consumption for the 2007 event in Sydney was 2% lower during the Hour than would be expected given the time, weather conditions and past four years' consumption patterns. The Herald Sun equated this with "taking 48,613 cars off the road for 1 hour".
Earth Hour 2008

Following Sydney's lead, many other cities around the world adopted the event in 2008. Earth Hour 2008 was held internationally on 29 March 2008 from 8 pm to 9 pm, local time, marking the first anniversary of the event. With 35 countries around the world participating as official flagship cities and over 400 cities also supporting, Earth Hour 2008 was celebrated on all seven continents.
Iconic landmarks all around the world turned off their non-essential lighting for Earth Hour which included the Empire State Building (New York City), Sears Tower (Chicago), Golden Gate Bridge (San Francisco), Bank of America Plaza (Atlanta), Sydney Opera House (Sydney, Australia), Table Mountain (Cape Town, South Africa), Wat Arun Buddhist Temple (Bangkok, Thailand), the Colosseum (Rome, Italy), Royal Castle (Stockholm, Sweden), London's City Hall (United Kingdom), Space Needle (Seattle, USA), the CN Tower (Toronto, Canada), SM Mall of Asia, SM Science Discovery Center (Manila, Philippines), Suva (Fiji), Nidaros Cathedral (Trondheim, Norway) and The Royal Liver Building (Liverpool, England).
Before 2008, San Francisco had been running a Lights Out program of their own, that occurred in October. In 2008, Earth Hour became an international event and San Francisco was asked to be a partner city in this event. Rather than have a competing event, San Francisco has supported the international Earth Hour event and all Lights Out efforts have moved to March 29, to align with Australia's Earth Hour.
In Canada, the best result was from Toronto, where 900 megawatt-hours of electricity, or 8.7% was saved if measured against a typical March Saturday night. The worst result was from Calgary. The city's power consumption actually went up 3.6% at the hour's peak electricity demand. In Calgary, however, where weather plays a large role in power consumption, the city experienced weather 12°C colder than the previous Saturday's recorded temperature.
According to a Zogby International online survey 36 million people participated in Earth Hour 2008. The survey also showed there was a 4 percentage point increase in awareness of environmental issues such as climate change, directly after the event.
Earth Hour 2009
Earth Hour is taking place on Saturday, March 28, 2009 from 8:30 pm to 9:30 pm, local time.
The Earth Hour 2009 is taking place in the context of the pivotal 2009 United Nations Climate Change Conference. The event aims to have 1 billion "votes" in over 80 countries and 4000 supporting cities.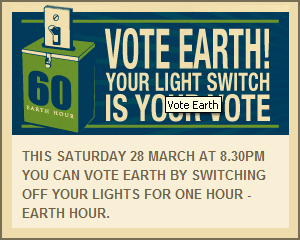 If you care, be one of them. Vote Earth!
If you are a Reiki Practitioners, you can do more than just turn off the lights and light a candle. You can use that hour to give Reiki to Mother Earth. You can help to make it a better place for all of us.
The official website for the event, earthhour.org, received last year over 6.7 million unique visitors in the week leading up to Earth Hour. Other websites, like Google, YouTube and Flickr, took part in the event.
Reiki-Do participates in this event, at Montreal/Toronto (GMT -05 EST – Eastern Time US & Canada) and Calgary (GMT -07 MT – Mountain Time US & Canada) local times. We invite all our readers to join us in this spiritual event. Many thanks to all of you who will choose to do it.
Latest Photos
Latest Videos
Please, share with us your "bright ideas" for the "dark hour".
Please follow and like us:
11 Responses to "Reiki for Earth Hour"