It is a good sign that the mainstream media begin to show interest in alternative medicine and particularly in Reiki as an important part of energy healing. This exposure comes from the fact that more and more renowned specialists and researchers in the medical field acknowledge the contribution of alternative treatments to the general health of the population.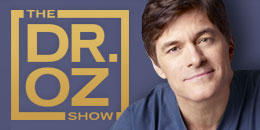 On Wednesday, January 6th, 2010, Dr. Oz had a special segment on his show about alternative medicine treatments and mentioned that some of them have been known for centuries or even millennia. He brought on stage aromatherapy, acupuncture, and Reiki practitioners who gave demo-sessions and he interviewed the recipients. All of them admitted that their problems were going away or were partially relieved.
Mehmet saved Reiki for last, saying "The next one I'm going to talk about is one of my favorites. We've been using it in the Oz family for years." Then he mentioned that his wife is a Reiki Masters and that he and Pamela Miles, the Reiki Practitioner on the show, have worked together in surgery.
She demonstrated chair Reiki on a person having a headache, and she explained that Reiki energy is contributing to re-establish one's balance at energetic level, which results in an improved overall state of health. The subject told Pamela that her headache was going away.
In the meantime, Dr. Oz explained that at cellular level, one of the cell membrane's functions is to preserve the energy of the cell. And if a cell has its own energy, so does an organ, hence the whole body. That explains how it is possible to heal the body using energy.
Even though the segment is short, this is huge mainstream exposure for Reiki. Even more importantly, Dr. Oz's conclusion is that the modern medicine and complementary and alternative treatments (CAM) can work together in what is now called integrative medicine.
On the same note, Dr Oz mentioned the importance of breathing exercises and body movement arts like yoga, Qi Gong and Tai Chi for strengthening the immune system and maintaining health. He even asked the audience to stand up, lift their arms and breathe deeply. This kind of exercises are very efficient when it comes to maintaining health or recovering after an illness.
If you did not have the chance to watch the show, here is the link to Dr. Oz's webpage Alternative Medicine Treatments.
Please let us know what your opinions and feelings are.
Please follow and like us:
One Response to "Reiki on Dr. Oz Show"
Allice Says:
January 8th, 2010 at 19:42

Dori and Martha,
Thanks to your email at least 4 of my friends saw Dr. Oz Show.
Love, Alice