World Tai Chi and Qigong Day (WTCQD), also spelled World T'ai Chi and Ch'i Kung Day, was celebrated this year on Saturday, April 24th, 2010, at 10:00 am local time. This year was the eleventh year of this international event!
Everything began in 1998 when the local Tai Chi Club held a mass Tai Chi exhibition and taught on the lawn of the Nelson Atkins Museum of Art in Kansas City, Missouri, bringing together nearly two hundred people. In 1999, Bill Douglas founded World Tai Chi and Qigong Day to increase awareness of the profound health benefits of practicing Tai Chi Chuan and Qi Gong.
This worldwide event, like a sunrise, waves around the world on the last Saturday of April. It begins every year in the earliest time zones of New Zealand at 10 am, then participants across Oceania, Asia, Africa, Europe, North America, and South America take part, and ends a day later with the events in the last time zones of Hawaii. Sixty-five nations, hundreds of cities and tens of thousands of people join together on this day in the spirit of global and personal healing.
The mission of this multinational effort is to expose people to the growing body of medical research related to traditional Chinese medicine (TCM) and direct them to teachers in their home towns.
This annual event is open to the general public, everybody is welcome and no experience is needed. Demonstrations and free mini-lessons in various styles and forms of Tai Chi Chuan and Qigong are offered. It is fun, easy, interesting and everybody is a part of a truly unique, international wave of health and breath.

This year, for the first time, Leamington became part of this international event. Reiki-Do, with the help of Dr. Derrick J. Beleutz Chiropractic and the Half Century Club is organizing a WTCQD celebration. Reiki-Do is a registered member of World Tai Chi and Qigong Day.
The event was held on Saturday, April 24th, 2010, at 10:00. The planned location was the Seacliff Park waterfront, in an attempt to benefit from the amazing energy of the Erie Lake. The back-up plan, in case of bad weather, was to have the event at the Half Century Club, on 160 Talbot St. East, Leamington, who had generously offered a big enough room to accommodate the expected participants.
We used a number of free advertizing methods: radio, local TV channel, our combined e-mail lists and flyers in order to maximize the attendance. We invited everybody to join us in this celebration! We insisted on the fact that this event was for all age groups and that no previous knowledge was required.
Saturday morning came and as the forecast had predicted it started raining, so we headed towards the Half Century Club. We were there half an hour before 10:00, just in case people decided to come earlier. Ten minutes before 10:00 people started to show up and kept coming in until a few minutes after 10:00. Actually, we had to go get more chairs, as we had a much bigger attendance than expected for this first edition of the WTCQD event. We were so happy that the rain hadn't discouraged them from joining us!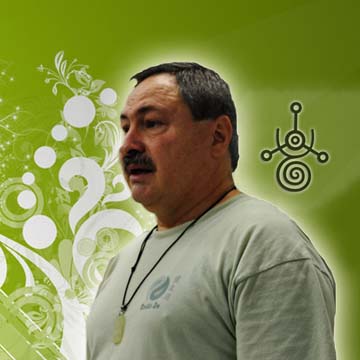 Dori Patriche, who conducted the event, is a Qigong practitioner, a black belt in multiple karate styles and an experienced energy practitioner and teacher. Other teachers and practitioners were also invited. Unfortunately, none of them could make it, either because they were involved in the same event in a different location, or because they were not in the area at that moment.
Dori opened the event with a short presentation of the WTCQD event, the origins of Tai Chi and Qigong, the type of exercises they involve, and of course the benefits of practicing them consistently He insisted on the fact that they are not only powerful tools for personal development and spiritual growth but also efficient techniques for self-healing used in the Traditional Chinese Medicine. More than that, he mentioned that Qigong is the origin of all Chinese martial arts and that at its origin Tai Chi Chuan is a hard-soft martial art.
After that, he demonstrated how only a few minutes of Qigong practice could increase people's vitality. He asked for two volunteers, one for the experiment, and the other as a witness. The witness used the muscle testing method, before and after the other one performed Qigong exercises under Dori's supervision for only a couple of minutes, in order to evaluate his vitality level. Everybody was surprised by the result of the test.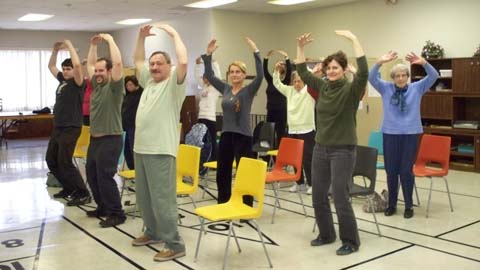 Later Dori invited everybody to join him in a few basic Qigong exercises. He mentioned that people who had problems standing for longer periods of time could perform those exercises sitting on a chair. During the breaks between series of exercises, he explained what the health benefits of those exercises were. He also demonstrated how some simple movements used in Qigong could be used for self-defense.
Towards the end, Dori answered some questions about Qigong, like where it can be practiced in the area, or if there was any diet associated with practicing it, and so on.
The event took longer than anticipated, a little over an hour and a half. People seemed to be filled with that energy that infuses all life. Everybody left with the feeling that they had become a part of something greater than themselves, something that felt like sending a wave of peace to themselves, their families, their community and the entire world! Many of them decided to join Tai Chi and Qigong schools in the area.
The event was an undisputable success: it had a great turnout and it lasted longer than planned. Our efforts had served a noble purpose!
The Channel below broadcast 24 hours of live-streamed World Tai Chi and Qigong Day events on April 24th, 2010. You can continue to watch some Tai Chi and Qigong demonstrations, even though the event is over.
For more information please visit WTCQD's website.
Many thanks to the Leamington and District Half Century Club for hosting the event, to Dr. Derrick Beleutz Chiropractic Clinic for their kind help advertizing the event, to Chris Labbate from Forge Infinity Studios for the picture taken during the event and to all those who took the time to join in this great celebration!
See you all again next year! In the meantime, tell us how YOU celebrated the WTCQD 2010.
Related article:
World Tai Chi and Qigong Day
Please follow and like us:
No Responses to "World Taiji and Qigong Day 2010"
Comments are closed.