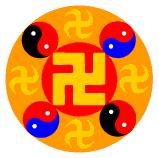 This year marks a decade from a very sad event not only for the Qigong community, but also for the entire humankind: the ban on Falun Gong and the wave of persecutions against its practitioners that followed. Maybe not everybody knows or remembers the development of the events, so I will give here a short version.
Falun Gong is one of the most important phenomena to emerge in China in the 1990s. A well-known sinologist, Benjamin Penny, says that while Falun Gong is a "Qigong cultivation [spiritual self-development] system," the heavy emphasis on morality makes it appear to be a religion.
Qi Gong in Modern China
After being an intrinsic part of the Chinese social life for millennia, the modern history of Qigong is full of ups and downs. Immediately after the Communist revolution it was ignored or barely tolerated. And then, it had fallen into official disfavor when Mao came to power, and was denounced as a lingering manifestation of the "ancient superstitious beliefs of Taoism and Buddhism".
But it never went away and gradually resurfaced as the Cultural Revolution ware on and the government changed its attitude. Whether the Qigong exercises were religious or not, they were indisputable Chinese, and they came to be viewed as politically correct, worthy of polite attention if not outright devotion. Also, Qigong was sanctioned by the authorities because of its practical benefits as a fitness regime. When people exercise regularly, they tend to be healthier, which takes pressure off the public health care system. So, Qigong moved slowly from being left alone, to being actively encouraged by the Communist Party.
Beginning
In this political climate, Falun Gong, also known as Falun Dafa, emerged as a spiritual movement, based on ancient Taoist, Confucianist and Buddhist teachings, that uses Qigong for cultivation. While initially Falun Gong laid emphasis on health benefits, over time the philosophical teachings of Truth, Goodness and Forbearance began to take on more importance.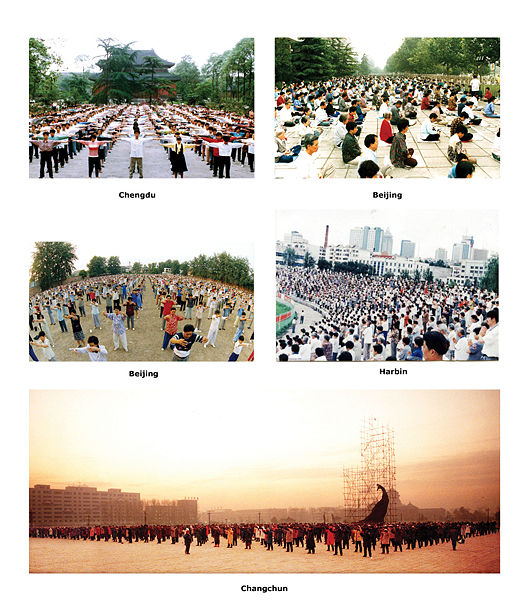 The debut of Falun Gong took place in 1991, when the Chinese Government showed signs of relaxing its control over traditional religious activities, and Qigong was officially recognized in China.
Li Hongzhi introduced the Falun Gong to the public on May 13, 1992 at a lecture organized by the China Qigong Science Research Society (CQSRS) to a "small" audience of approximately 500 people. Invited by Qigong organizations from each area, Li traveled to almost all major cities in China from 1992 to 1994 to teach the practice.
After Li's withdraw in 1994 from the CQSRS began the opposition to Falun Gong from within the Party, and increased over the following years.
From 1992-1998 Falun Gong practice spread quickly and extensively in China. During this period, it was highly praised and awarded by officials and Chinese government bodies – such as the Public Security Bureau, National Bureau of Public Recreation, and Sports Commission – for the benefits Falun Gong brought to people's health and the economy.
As Falun Gong practitioners have no membership system or rosters, numbers are unknown. In 1998, the Chinese government published a number of 70 million practitioners in China.
Defamation
On June 17, 1996, the "Guangming Daily", one of the government's official newspapers, published an editorial entitled, "A Loud and Long Alarm Must Be Sounded Against Pseudo-Science", which criticized Qigong in general and claimed Falun Gong promoted "superstition". Falun Gong related sources say that this was the beginning of a concerted, state controlled media campaign that attempted to curtail Falun Gong's popularity.
Official investigations, with the purpose of finding fault with Falun Gong, were launched in 1997 and 1998. An official report stated that Falun Gong "only benefits, and does no harm to … the nation".
Shortly after, a circular was distributed to police offices throughout the country labelnig Falun Gong as a "sect". Falun Gong materials could no longer be published through official channels and faced confiscation. Falun Gong related sources document that many of the agents involved in the investigations later became practitioners themselves.
At the beginning of the Chinese New Year 1999, after only seven years from its debut, Falun Gong had already millions of followers, including prominent figures of the Communist Party and Chinese government, and thousands of training centers in China's mainland. Nevertheless, the movement not only was not officially recognized by the government, but even more, was targeted by Chinese government which was feeling threatened by its popularity.
In April 11, 1999, physicist He Zuoxiu, atheist-marxist, and "crusader" against "supernatural and unscientific thinking", published an article in the Tianjin College of Education's "Youth Reader" magazine, entitled "I Do Not Agree with Youth Practicing Qigong". and criticized Falun Gong. Practitioners found his treatment of Falun Gong unfair, and believed it to be part of a wider campaign to discredit the practice; they subsequently gathered to protest the article. Police were allegedly called, who then beat and arrested a number of protesters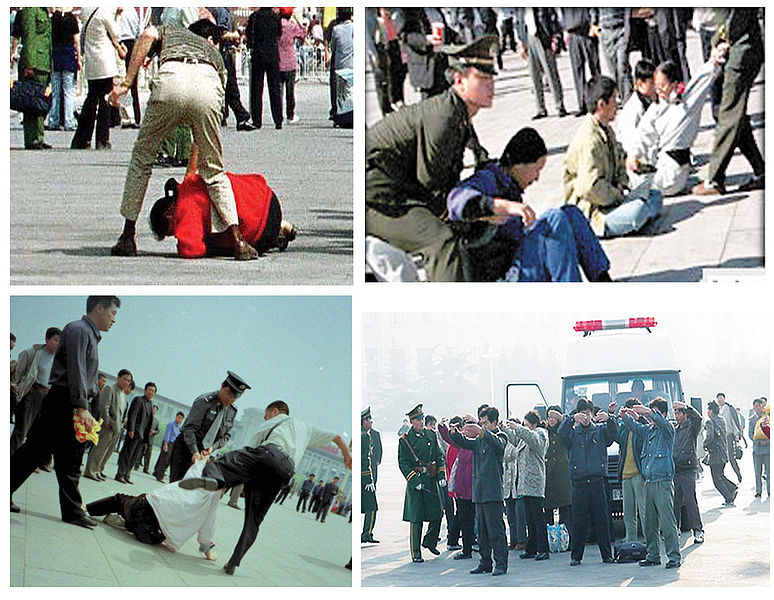 On April 25, 1999, around ten thousand Falun Gong practitioners gathered in a silent protest outside Beijing's Zhongnanhai Communist Party headquarters (Chinese version of the better known Kremlin). They were requesting two things, the release of the practitioners arrested during previous demonstrations and the recognition of Falun Gong by the Chinese Government as an independent, state-sanctioned organization.
The Ban
By May 7 [1999], reports were circulating that President Jiang Zemin had called the group a major threat, that a high-level task force had been formed with Party leaders in charge, and that the decision to designate Falun Gong an illegal organization had already been made. (Human Rights Watch, Dangerous Meditation)
A month later, on July 20, 1999, thousands of practitioners were arrested in the middle of the night, the massive propaganda campaign to vilify the practice began, and the persecution was officially underway.
On July 22, 1999 the Chinese Ministry of Civil Affairs issued an official statement banning Falun Gong. The organization was depicted as a highly organized political group "opposed to the Communist Party of China and the central government, [that] preaches idealism, theism and feudal superstition." Charges imposed ranged from "organizing illegal gatherings" to "threatening political stability". The government led by Jiang Zemin wanted to "eliminate the influence [of Falun Gong] and encourage healthy trends and scientific thoughts, and maintain social stability". All public activities of this organization, including dissemination of materials in any form were punished with imprisonment. The worst thing was the fact that the order was retroactive.
Li Hongzhi immediately responded with a "Brief Statement of Mine", stating that Falun Gong is simply a popular Qigong activity" without "any political objectives" which "have never been involved in any anti-government activities" and calling "for all governments, international organizations, and people of goodwill worldwide to extend their support and assistance to us in order to resolve the present crisis that is taking place in China".
On the same day, Human Rights Watch in New York issued a statement that "strongly condemned the Chinese government's nationwide ban on the practice of Falun Gong" and urged the release of practitioners "arbitrarily detained in a nationwide sweep aimed at suppressing the group". Human Rights Watch called on the international community to protest the ban, and urged Mary Robinson, the United Nations High Commissioner for Human Rights, to intervene with Chinese officials at the highest levels.
The letter sent by of Hong Kong practitioners to Chinese government sent in an attempt to "explain to government officials who we are and what we are doing" was stating:
"Falun teaching instruct us on how to develop truth, compassion and tolerance … and to learn how to be a good person"
Persecution
Since 1999, the practitioners were continuously persecuted and rendered as no-status citizens in China. Reports of torture, illegal imprisonment, beatings, forced labor, and psychiatric abuses have been widespread. 66% of all reported torture cases in China concern Falun Gong practitioners, who are also estimated to comprise at least half of China's labor camp population, according to the UN Special Rapporteur on torture, Manfred Nowak, and the US Department of State respectively.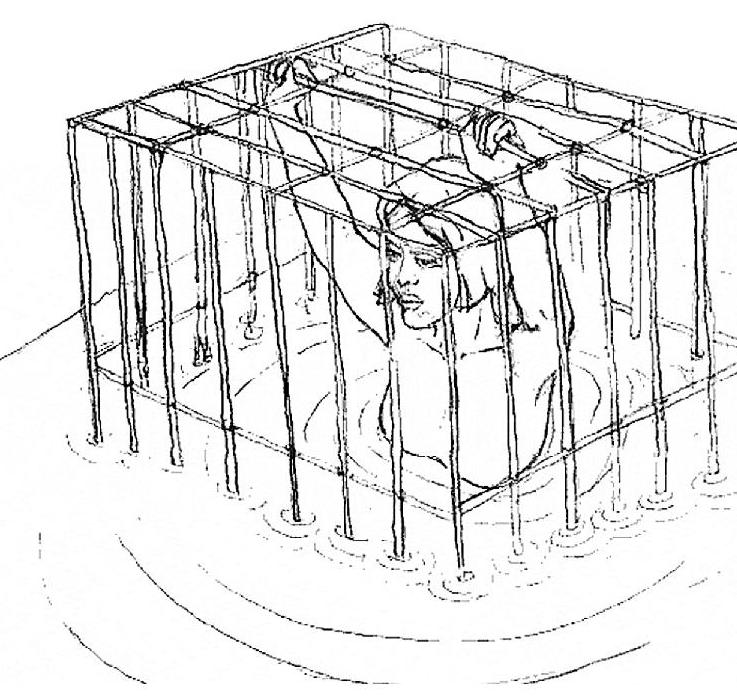 In its "United Nations Reports on China's Persecution of Falun Gong" (2004), Falun Gong sources report numerous cases of extreme psychological and physical torture, accompanied by testimonies and details of identities of the victims, resulting in impaired mental, sensory, physiological and speech faculties, mental trauma, paralysis, or death. Over 100 forms of torture are purported to be used, including electric shocks, stress positions, branding, force-feeding, and sexual abuse, with many variations on each type. The main purpose of the torture is ostensibly to have Falun Gong practitioners renounce or denounce the practice and their teacher, Li Hongzhi. The Special Rapporteur refers to the torture scenarios as "harrowing" and writes that "The cruelty and brutality of these alleged acts … defy description."
In 2006, human rights lawyer David Matas and ex-Canadian secretary of state David Kilgour published an investigative report concluding that a large number of Falun Gong practitioners have become victims of systematic organ harvesting in China and that the practice is still ongoing.
In November 2008, The United Nations Committee on Torture called the Chinese State party to commission an independent investigation of the reports, and "ensure that those responsible for such abuses are prosecuted and punished."
International Support
Human rights organizations, including Amnesty and Human Rights Watch, have raised acute concerns over reports of torture and ill-treatment of practitioners in China and have also urged the UN and international governments to intervene to bring an end to the persecution. David Ownby notes that human rights organizations "have unanimously condemned China's brutal campaign against the Falun Gong, and many governments around the world, including Canada's, have expressed their concern".
Governments around the world, including United States and Canada have called upon the Chinese government to bring a complete end to the persecution. The United States Congress has passed five resolutions – House Concurrent Resolution 304, House Resolution 530, House Concurrent Resolution 188, House Concurrent Resolution 218 and House Concurrent Resolution 217 – where Congress expresses that oppression of Falun Gong by the Government of the People's Republic of China in the United States and in China should be ceased. The first, Concurrent Resolution 217, was passed in November, 1999.
Concurrent Resolution 188, passed unanimously (420-0) by the US Congress, states:
"Falun Gong is a peaceful and nonviolent form of personal belief and practice with millions of adherents. The People's Republic of China has forbidden Falun Gong practitioners to practice their beliefs, and has systematically attempted to eradicate the practice and those who follow it; …this policy violates the Constitution of the People's Republic of China as well as the International Covenant on Civil and Political Rights and the Universal Declaration of Human Rights; … propaganda from state-controlled media in the People's Republic of China has inundated the public in an attempt to breed hatred and discrimination; … official measures have been taken to conceal all atrocities, such as the immediate cremation of victims, the blocking of autopsies, and the false labeling of deaths as from suicide or natural causes;… several United States citizens and permanent resident aliens have been subjected to arbitrary detention, imprisoned, and tortured."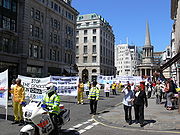 Falun Gong practitioners in the United States have filed several civil complaints in US federal courts against PRC leaders for violations of the Torture Victim Protection Act, the Alien Tort Claims Act, and other crimes against humanity. Law suits have also been filed for violation of the Freedom from Religious Persecution Act of 1999. Chinese officials alleged to have taken part in human rights abuses against practitioners have become targets of legal action, particularly when they step upon foreign soil. Since 2001, there have been more than 70 legal cases launched by Falun Gong practitioners and sympathizers against those considered responsible for the persecution campaign in the Chinese government. According to International Advocates for Justice, Falun Gong has filed the largest number of human rights lawsuits in the 21st century and the charges are among the most severe international crimes defined by international criminal laws.
Yuezhi Zhao, professor of Communications at the University of California, contends that Falun Gong's massive spread, and sustained activism against its persecution, have unwittingly become the greatest challenge to the Chinese state power in recent history, and "the most dramatic episode in the contestation over media power in the Chinese language symbolic universe".
Despite the large international support, the situation of the Falun Gong practitioners did not change in mainland China.
Regardless your similitude or differences in opinion with Falun Gong teachings, if you disagree with the way its practitioners are treated in China, on July 22nd you can dedicate an hour, or as much time as you can, to pray or to send your love and thoughts to those who suffered and/or are still suffering from the persecution of the Chinese Government and Party. If you are a Reiki practitioner or a Qigong practitioner, you can also send energy to heal their wounds.
Please follow and like us:
No Responses to "Sad Anniversary for Qigong"
Comments are closed.