Leamington Post, Wednesday March 22, 2006
A new natural healing practice promises to offer relaxation to heal the body, mind and spirit through balancing your "life energy."
Martha and Dori Patriche, formerly of Quebec opened the holistic therapy centre called Reiki-Do on the fourth floor of the Princess Centre on March 1.
"A typical 60 minute treatment feels like a wonderful glowing radiance that flows through and around you," said Dori. Relaxation is the name of the game and upon walking into the office or therapy room it is apparent by the very serene atmosphere. The office has moss-green colored walls, floral paintings, the sound of a running waterfall, and soft soothing music playing in the background.
The new business couple said during an interview March 7, that they got the idea of opening the Reiki-Do business after needing a major change in their lives. Dori, a former electrical engineer and Martha a former English language teacher in Quebec says they have been practicing Reiki there for years on family and friends. "After a few of our friends moved here," he said shrugging his shoulder, "we liked the warmer climate and decided to do the same." Once they were here they continued the practice of Reiki and it turned into someone suggesting they open an office. "We also do house calls," said Martha, "and have been for some time."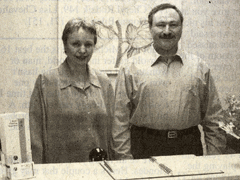 The non-traditional form of medicine or what they referred to as Eastern Medicine vs. Western Medicine can heal the body, mind and spirit through balancing your "life energy," they say. "It doesn't replace traditional medicine – just enhances it," say Dori.
Reiki pronounced Ray-key is a Japanese technique that encourages stress reduction and relaxation to promote health. "Rei means universal and Ki is life energy," says Dori. He says studies have shown that it can speed healing, reduce stress, lower blood pressure and can also be used to manage pain.
It uses light touch or virtually no touch at all to balance the body's natural energy centers called chakras, he said. The client remains fully dressed and lies down on a table and is covered with blankets. The Reiki practitioners then places their hands several inches above different areas of the body last from two to five minutes on each area.
Sessions last between a half hour to an hour and a half depending on whether there is one practitioner or two.
Reiki is not a religion, they say, and is based on five simply basic principles:
Just for today, do not anger
Just for today, do not worry
Just for today, be grateful
Just for today, do your work with honesty
Just for today, be kind to all living things
The Patriches are also a part of the Canadian Reiki Association and are certified through them as Reiki Masters/Teachers. As part of their business they want to teach Reiki too.
"We are going to educate more people about this modality" said Martha, "and we look forward to providing our services here in Leamington and the surrounding area."
Office hours will be Monday to Friday 9 to 5 for the next few weeks and then they plan to review operating hours depending on the response they receive, she said.
Please follow and like us:
No Responses to "Natural Healing Practice Promises Healing Through Relaxation"
Comments are closed.