Kingsville Reporter, Tuesday August 1, 2006
Relaxing and reviving your Mind, Body, and Spirit through different natural healing modalities was the focus of the Holistic Fair held this past weekend at the Leamington Marina Pavilion. As part of the event guests also learned how to create tranquility and clarity in everyday life through the gentle yet powerful healing properties of crystals, sound, and meditation. Pictured above, owners of the Reiki-Do Natural Healing Centre showcase their services during the event. The fair featured on-site Holistic practitioners and vendors performing live demonstrations and consultations, mini taster treatments as well as offered products for sale.
In response to the ever-increasing awareness of the population in this area towards alternative methods of healing, the first annual Holistic Health Fair was held at the Leamington Marina pavilion on Saturday July 29th 2006. The idea of bringing holistic modalities under the same roof has been around for years and holistic events are quite popular in the Windsor area This year, the Leamington Marina served as the picturesque setting to the first annual Holistic Health Fair bringing together holistic practitioners and vendors from all over Essex County. Some of the modalities on site included Reiki, Crystal Healing, Reflexology, Aromatherapy, Massage, Acupuncture, Magnetic Massage and others. Holistic practitioners also performed live demonstrations and consultations, and gave mini-taster treatments. There were also a variety of vendors selling crystals, meditation CDs, books, incenses, organic products and many, many more.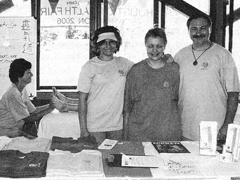 Martha Patriche of Reiki-Do Natural Healing Centre confirmed that the event is meant to raise people's awareness towards holistic healing, introduce and educate them about some of the modalities and practitioners in the area, as well as offer mini treatments and recommend products to complement these gentle yet powerful healing arts. "The modern medicine world is finding out that these natural therapies do complement other medical or therapeutic techniques in an effective way that relieves symptoms and side effects and promotes recovery," Patriche said. "Our goal is to assist those who are curious about learning more about the variety of modalities that are out there. It really is all about educating the public about the benefits of holistic health and discovering the different layers and energies that can be used for treatment as well as preventative measures." "Alternative healing modalities are becoming increasingly popular, especially as medicine continues to explore complementary methods of healing," added Patriche.
One of the participants, Intuition Caffe, focused on reflexology, chair massage and the importance of energy balancing. "We are energy. When our energy flow for one or all systems of the body is disrupted, we become imbalanced," says Debbie, whose holistic treatment takes a therapeutic energy approach to aid in balancing the body's energy.
Kingsville's Judi Bechard is the owner of Infinite Awakenings and provides energy healing sessions and healing through crystals. Judi confirms that there is a complex system of energy that runs through and around the human body. "An interruption to this flow can cause disruption to the physical, mental, emotional and spiritual aspects of an individual," she notes. "Energy healing therapy is designed to recognize and remove energy blocks within the physical as well as the subtle bodies of energy that support the physical." Crystal therapy is seen as a highly effective and soothing therapy that is designed to restore balance on all levels. Recognizing that crystals carry a resonance and each with its own minerals, keeping certain crystals with you will help you restore balance. Offering more information at the website: www.infiniteawakenings.com. Judi believes that events such as these are playing an important role in getting the message out about holistic health treatment and she hopes to be able to host a similar health fair in Kingsville.
A general consensus of the attendees at this Holistic Health event believe that future events in this series are destined to play an important role as a valued and unique event in our community.
Related articles:
Holistic Health Harbour 2006
First Annual Holistic Health Fair at the Leamington Marina
Holistic Health Highlighted at Fair on Saturday
Holistic Health Fair 2006
Please follow and like us:
One Response to "Holistic Health Fair Opens Doors to Awareness"
Jonathan Says:
November 9th, 2007 at 11:08

Jonathan

I love your site. The articles provided really look very nice. They are long enough to provide great content but not so long as to be totally engrossing, if you know what I mean.