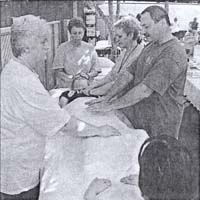 Kingsville Reporter,
Tuesday September 25, 2007
The second annual Holistic Health Fair took place at Colasanti's Tropical Gardens on Saturday. Pictured above [left]: Kelly Sabara, Alice Frith, Lynn Sovie, Martha Patriche and Dorinel Patriche take part in a Reiki healing session as Elizabeth Frith enjoys the benefits.
Reiki-Do Natural Healing Centre hosted the second annual Holistic Health Fair at Colasanti's Tropical Gardens on Saturday. Among the healing modalities on site were aromatherapy, chiropractic, massage, magnetic massage, Reiki, reflexology, and psychic readings. Holistic practitioners per-formed live demonstrations, giving mini-taster treatments.
"We're trying to bring [to the Western world] some of the philosophical aspects of Eastern culture [regarding health and healing]," explained Dorinel Patriche, co-owner of Reiki-Do with wife Martha. Dorinel noted that natural healing methods have been known for centuries, and today, provide a balance with modern medicine. "We want to educate people about natural methods of healing," he continued. "Western medicine is great and has advanced so much. But it is not able to cover some aspects [of health maintenance and disease prevention]." Dorinel indicated that by combining modern medicine with natural healing methods, patients can receive the maximum benefit when it comes to [health care] procedures.
According to traditional Chinese medicine, the four pillars of preventative medicine are bone fixing, deep tissue manipulation, healing with food and herbs, and energy healing. Today, these correspond to chiropractic, all massage techniques, nutrition and all methods of energy healing.
Several local businesses were represented on Saturday including Debbie, who among other things, is a holistic Body Reflexologist. Debbie was attending for the second year in a row, and noted that the show provides an enlightening look into the world of natural medicine.
To learn more about natural healing methods, log on to www.reiki-do.ca.
Related articles:
Second Annual Holistic Health Fair at Colasanti's
Colasanti's to host Holistic Health Fair, September 22
Holistic Health Fair 2007
Please follow and like us:
No Responses to "Holistic Fair Highlights Natural Healing"
Comments are closed.