Saturday night, my 17-year-old daughter brought home a rosebud. The poor little flower had been kept without water for a few hours and it was dying, but she put it in water anyway.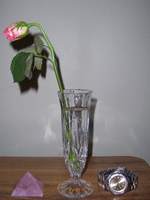 Sunday morning she changed the water and put it in a little crystal vase. I suggested that she give Reiki to it. She is a third level Reiki Practitioner, but also at a difficult age, so I expected a no. I guess her love for flowers just conquered all inhibitions and self-consciousness, so she gladly proceeded to help the rosebud. I really wanted all this documented, so I took a picture before she started the Reiki mini-session, at 10:40 am and you can see for yourself how poorly that rosebud was doing.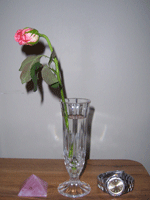 Fifteen minutes into the Reiki session, the flower started to slowly recover, so I took another picture at 11:03 am. As you can see, the rosebud started opening and the stem started to straighten up. Still the improvement wasn't spectacular and my daughter was quite disappointed.
I started explaining to her that it takes time for the energy work to balance the energetic field of a living form back to health. I also explained that the energy continues to work even after the actual Reiki session and that she had to be patient.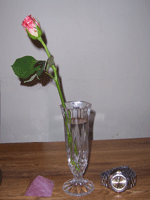 She got involved in some other activities and she forgot about her rose for about three hours. When she looked at the flower again, she couldn't believe her eyes. The stem was almost straight, the leaves perky and green, and the rosebud had opened a little more. She was happy to see what energy could do for her rose. Take a look at the picture taken at 2:14 pm.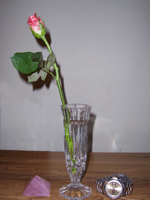 I took another picture four hours after the
Reiki session, at 3:00 pm. As you can see, the rose looked perfectly healthy and happy. I explained my daughter that Reiki will also make the rosebud live longer than usual. I did not take any other pictures, but on Monday, the rosebud was still in great shape.
My daughter was very happy. I guess that the rose was really important to her. I think that this experience had been a real turning point for her, as she had started to see how Reiki could make a difference in restoring health, even if it was just a delicate little rosebud…
Please follow and like us:
8 Responses to "The Rosebud Experiment"