We are pleased to announce a new addition to our Reiki website.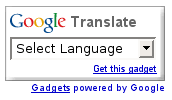 Reiki-Do website has now an automated translation tool – Google Translate. This is Google's online language translation service that instantly translates the current web page in one of the supported languages. This tool supports 24 languages for now, but the number is continuously growing.
Unlike other translation services, Google uses its own translation software. Google Translate is based on an approach called statistical machine translation. In the first stage it used United Nations documents that are normally available in all six official UN languages.
Once the current web page translated, the visitor can:
navigate on the entire website in the selected language
do research in the selected language
see the original text by placing the mouse cursor over a translated phrase
return to the original website.
We have to keep in mind that Google Translate, like other automatic translation tools, has its limitations. While it can help the reader to understand the general content of a foreign language text, it does not deliver accurate translations and does not produce publication-standard content. For example, it often translates words out of context and is deliberately not applying any grammatical rules. For some languages, users are asked for alternate translations, such as for technical terms, to be included in the translation process.
We hope that this new tool will bring Light and Joy into more lives all over the planet.
Please follow and like us:
2 Responses to "Reiki-Do Website available Worldwide"