The Caboto Club in Windsor was once again the host of a unique wellness event, the Holistic Health Expo. This event is intended to be an annual health and wellness show meant to educate people about natural ways to improve health at all levels. The theme of this gathering is Maintaining and Re-Creating Health in Mind, Body & Spirit.
This show was organized and coordinated by Martha and Dori Patriche owners and founders of the Reiki-Do Natural Healing Centre in Leamington with the help of Lisa Venus, owner of Reiki Release Centre in Windsor.
This year's show took place, as usual, in the Canada Hall on the Main (1st) Floor. Over 30 businesses and 60 exhibitors were present at the show. The event was free to attend by all the members of the community and their families regardless of age.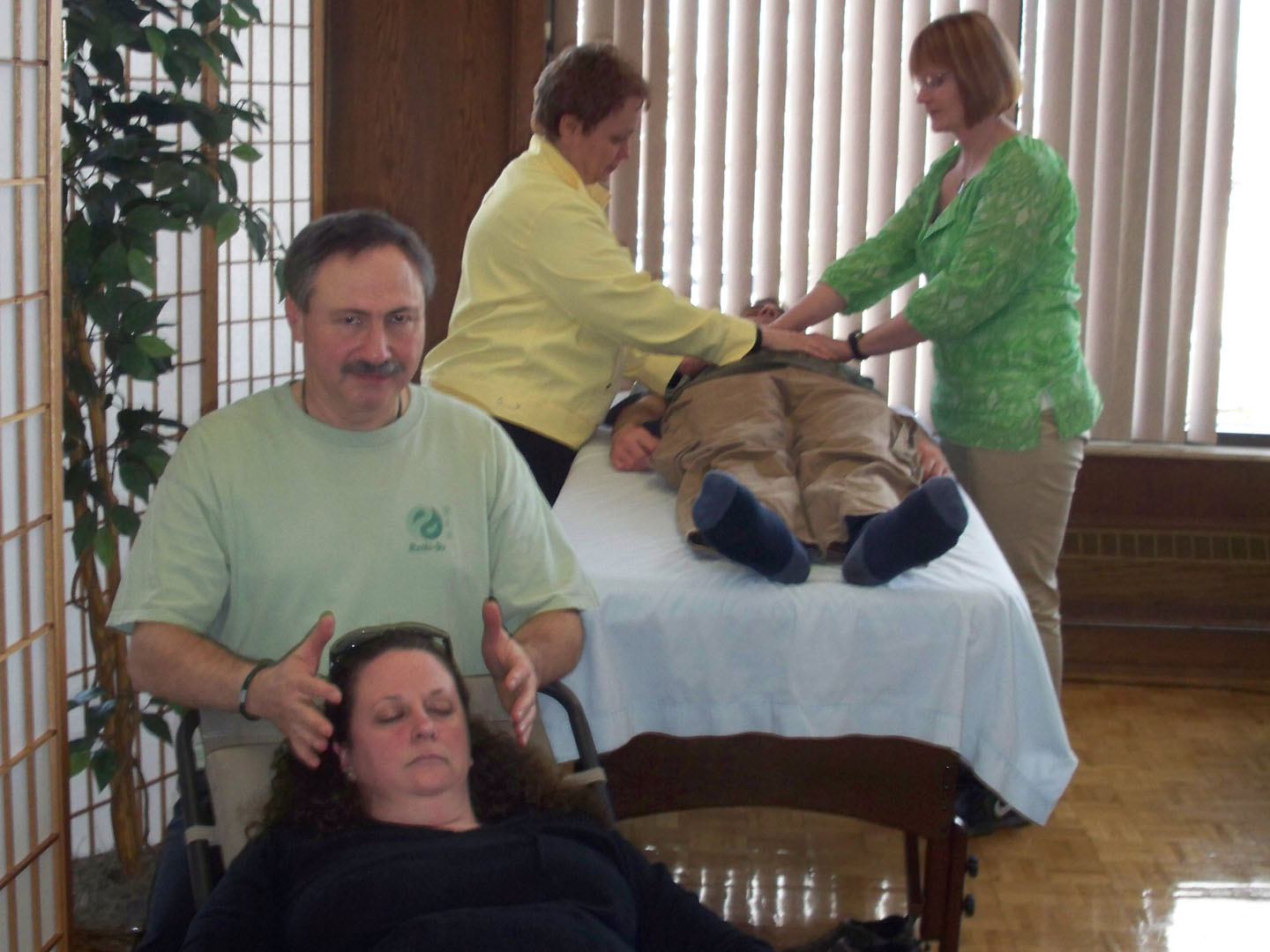 According to the Ancient Eastern Medicine, the 4 pillars of prevention medicine are: bone fixing, tissue manipulation, healing with foods and herbs, and energy healing. The show aimed to reflect these principles by having a wide range of alternative modalities.
The organizers' biggest challenge was to bring together people with different backgrounds and interests, but with a common ideal of healthy living. Other concerns were maintaining a good proportion among the different modalities, as well as insuring a reasonable distribution of the exhibitors throughout the Essex County.

The first category was well represented by well-known Chiropractic Doctors from Tecumseh and Windsor.
The tisue manipulation category was represented by Therapeutic Massage, Chair Massage, Cranio-Sacral Therapy, Reflexology, Shiatsu and Total Body Modification Therapy (TBM) therapists.
In the food and herbs category there were practitioners promoting Aromatherapy, Chinese Herbal Medicine, Nutrition, as well as Wellness consultants. The show featured distributors of the most advanced nutritional supplements and skincare products on the market as well as vendors of natural and organic products and revolutionary environmental-friendly cleaning products.
The Energy Therapy category featured Acupuncturists, Reiki practitioners, Therapeutic Touch (TT) practitioners, Emotional Freedom Technique (EFT) practitioners, Neuro-Linguistic Programming (NLP) practitioners and Qi Gong instructors. There were also vendors of crystals and therapeutic magnetic jewelry. In the same category were present Angel Readers and inspirational artists.
Well-known and established alternative medicine offices throughout the Essex County and Windsor were represented at the show, along with reputable support organizations, wellness consultants and life coaches, a plethora of holistic choices catering to everyone interested in alternative ways of maintaining or re-creating health. That day, Ancient and Modern, East and West were brought together under the same roof to show the world a glimpse of a better future, where all healthcare practitioners hold hands and share the same ideal.
Regardless of their primary interest and specialization, all practitioners were interested also in other alternative modalities. That's why the show was a great opportunity not only for the visitors, but also for the exhibitors to get to know and understand each other's holistic approaches to health, visit each other's booths, experience mini-treatments and share their common goals of creating a better, healthier planet!
In order to offer show visitors the opportunity to find out more about different modalities, lectures and demonstrations were running throughout the whole day in assigned spaces on the main floor. Presentations about Reflexology and Energy Healing were held every hour. Demonstrations and practice of Qi Gong by experienced practitioners attracted many show visitors interested in gentle and effective ways of preventing illness and maintaining health.
It was a great show, with an amazing turnout, with sunny skies but with quite chilly temperatures encouraging everyone to enjoy activities inside.
The show had a resonating echo in cyberspace as well. Here is a sample of how it impacted the audience through comments and pictures taken during the show and then shared on WindsoriteDotCa.
We would like to give our thoughts of love and gratitude to Reiki-Do students Lisa Venus, Pamela Cole, and Alison Ware for their constant support, dedication, and help, and for their amazing performance at the Reiki-Do booth on the day of the show.
Also, heartfelt thanks to the Caboto Club team. We are looking forward to a long and prosperous cooperation with them in the years to come!
Many thanks to all those who were there that day, sharing our love and dedication to promoting natural ways of maintaining health and wellness.
In the Spirit of Well-Being
Martha and Dori
Please follow and like us:
No Responses to "Holistic Health Expo 2011 Windsor Memories"
Comments are closed.